Scrap Paper Tree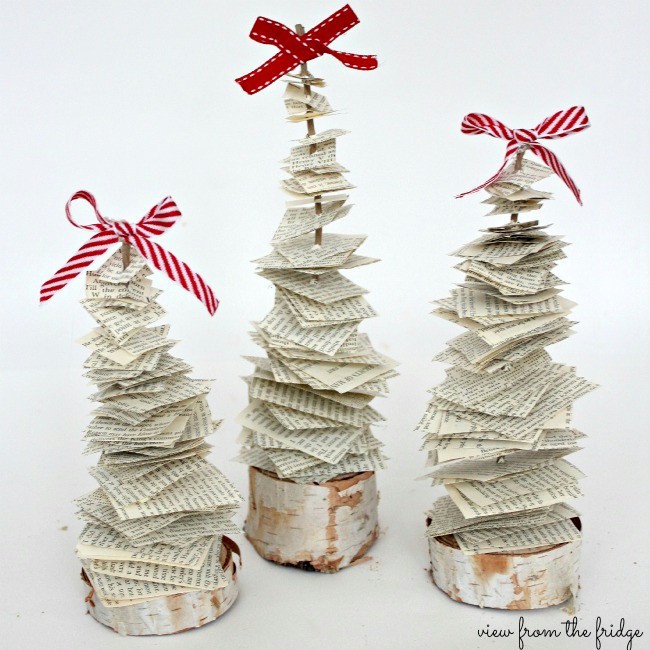 Keep the kids busy making a Scrap Paper Tree from inexpensive materials. Who says low cost can't be pretty. Make lots of these Scrap Paper Trees and set the scene for a beautiful holiday season.
Supplies
Birch slices … I actually hand cut mine from a Birch log, but craft stores also sell these.
Cloth Stem 'floral' wire
Book pages
Scissors
Square punch (optional … I actually ended up not using this and just cutting out the squares).
Drill with small bit
Ribbon for the top
Instructions
If you have a birch log, cut your slices for the base of your trees
Drill a small hole in the center just big enough for your floral stems
Set your stem in place in the base.
Next, cut a bunch of squares out of your book pages in a variety of sizes. These squares do not need to be perfect … eyeballing it is totally fine!
Begin adding the largest squares on the bottom of your stem, and then gradually add smaller and smaller squares as you go up.
Add a ribbon bow on the top to finish it off, and you're done!
Contributor

View From The Fridge
Katie is the writer and creator of View From The Fridge. She is also the mom to two adorable little boys (and another baby on the way), and wife to a great guy! She loves to craft, decorate, dream up projects for her home, and she's learning to love to cook (though not there quite yet). She started View From The Fridge in the fall of 2013. Katie also enjoys coffee, a good glass of wine or beer (when she's not expecting!), running, and anything outside. She lives in Minnesota and takes full advantage of the wonderful (but short) summer season outside with her family.