Scrap Fabric Birds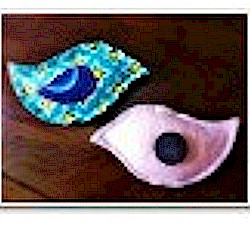 Print This Craft
Instead of throwing out all of those scraps of material and felt, recycle them into these colorful little Scrap Fabric Birds that can be turned into delightful refrigerator magnets.
Supplies
Scraps of fabric
Bits of felt
Mod Podge
Poly fill
Button Magnet
Glue Gun
Instructions
Apply a thin layer of Mod Podge to your pressed scraps to "stiffen" the fabric and give it more texture.
After everything is dry, cut 1 bird from fun fabric and 1 bird from coordinating felt. Cut 1 wing in fabric of choice. (I used felt).
Stitch wing to body. For my little guys & gals, I used a decorative blanket stitch on my trusty machine and a contrast thread color.
Then, super simple, match your front and back birdies together and straight stitch them together leaving a 1″ opening at the bottom. Stuff with poly fill. Be careful not to over feed your birds they will get fat!! Stitch the opening closed.
With your trusty glue gun in hand, apply a dab of glue at the center and attach your button magnet
Contributor

FaveCrafts.com
Maria Nerius has been designing crafts for over 20 years. She's a successful author and writer who loves to tweet (MariaNerius)and currently her work can be seen on www.FaveCrafts.com. You can follow Maria's Musing on her blog: http://marianerius.wordpress.com. Feel free to contact Maria: MNerius@cfl.rr.com.