Glue Batik Eagle T-Shirt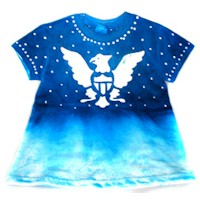 If that old white kids T-shirt is just too boring, turn it into a great creation just in time for Save The Eagles Day with this easy glue batik Eagle T-Shirt craft.
Supplies
Elmer's® Glue-All®
White t-shirt
Cold water spray fabric dye
Spray bottle with water
Large plastic trash bag
Instructions
Protect your surface with a large plastic trash bag. Place t-shirt on flat surface. Click on printables and print out the pattern. Position and center pattern inside shirt. Pattern can be seen through t-shirt.
Use the glue bottle like a pen and outline the eagle pattern. Fill in the outlined areas with glue. These areas can be scribbled in to make your appliqué look more like batik. Dot glue around the neckline and sleeves about ½" apart. Dot random dots on shirt top. Allow glue to dry on shirt front. Turn shirt over. Dot glue around neckline and sleeves and make random dots on shirt top. Allow glue to dry.
When glue is dry, remove the paper pattern from the inside of the shirt. (Some paper may remain stuck on the glued areas until the final rinsing in step 4.) Hang the shirt on a hanger. Spray the top half of the shirt with dye. Spray the bottom half of the shirt with water. Allow the dye to bleed into the shirt bottom area until dry (overnight). Note: The top half of the shirt can be sprayed with dye, then allowed to dry. Spray the lower half of the shirt with water and allow the dye to bleed down into the wet area.
Hand rinse the shirt in cool water to dissolve and wash away the glue.
Patterns, Templates and Printables
Click on a pattern to open it in a new window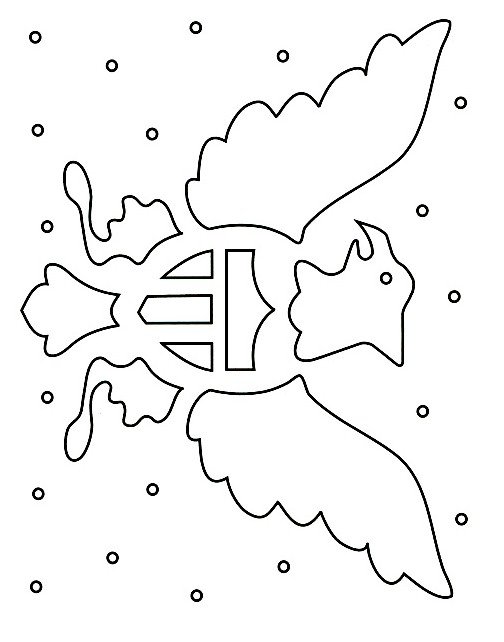 Contributor
HANDS ON Crafts for Kids
Remember what we all say at Hands On Crafts for Kids, "there's no right or wrong way to crafting…only our way!" We hope that you will join us for Hands On Crafts for Kids – Back to Basics.