Sanded Paper Mandalas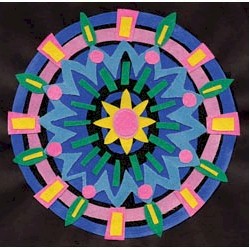 Mandalas come to us from southeast Asia. The word "mandala" originates in Hindu and Buddhist practice, in which the mandala is a symbolic expression of cosmology and serves as a teaching device for practitioners. The mandala form originated in India and evolved in Tibet. Tibetan mandalas have four (or multiples of four) sides. The outer corners are usually protectors of the Buddha wisdom within.
Supplies
Pencil
Plastic Bowl
Tacky Glue
Paint Brush
Scissors
Sand
Circle Templates or equivalent
Instructions
Using the largest circle template, draw a circle on a piece of construction paper. Mix four parts glue to one part water. Brush glue mixture onto the circle shape.
Sprinkle sand onto glue. Allow it to dry. Brush away excess sand.
Repeat Steps 1 & 2 to make additional colors of sanded-paper. Each student will need one black base circle and three or four colors to complete a mandala (students can share scraps). Cut out each circle, except the black bases.
To make designs, fold one circle into fourths. If desired, use the pencil to draw designs. Cut out the design like you would when making a snowflake. (Save the scraps to use later.)
Glue shape on black base.
Continue making shapes and gluing them onto the base until design is complete.
Contributor

United Art & Education
United Art & Education offers over 150 Free Project ideas for the art classroom or at home.  Discover a unique selection of products that make learning creative and fun! Choose from teaching resources and decorations, early learning items, and a range of art materials for art educators and students, plus some great gifts.