Magic Milk Painting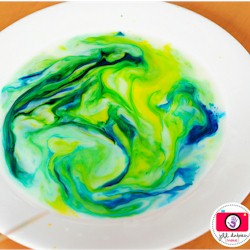 Supplies
Milk (I used homogenized, but you can experiment with any kind)
Liquid food colouring
Plate or shallow bowl
Toothpick
Instructions
Pour some milk on a plate or shallow bowl.
Squirt a few drops of several colours of food colouring in the milk.
Using a toothpick, swirl the colours together. Experiment doing different motions with while mixing the colours to see what results you get.
Rinse the plate and repeat!! Be sure to take a picture first so your little ones can enjoy their creations forever.
This project is reprinted courtesy of Meet The Dubiens.
Contributor

Meet The Dubiens
I love crafting with my kiddos, creating super fun lunches for them in the kitchen and taking pictures of them. My blog is a place for me to share all these things. I hope you enjoy!
Newsletter
Subscribe to our free newsletter to get creative crafts mailed to your inbox.