Samauri Paper Plate Helmet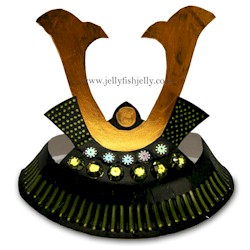 Make this Samurai Paper Plate Helmet as a teaching tool for understanding Japanese history or as part of a costume. Samurai helmets come from Japan. In Japanese history the helmets, and accompanying suit of armour, were worn by the military nobility. They are known for their distinctive shape and design.
Supplies
Large plain paper plate
Scissors
Paint/decorations
Stapler
Instructions
Cut out the template circle and glue it to the middle of the plate.
Cut through the perimeter of the plate,at the top of the helmet, and stop at the edge of the grey circle.
Cut around the edge of the grey circle and  stop at the black line.
Now cut out all the grey areas of the template.
Draw in the sides of the plate to form and 3D helmet shape and staple. If the helmet is to be worn, measure it around the head before stapling.
Fold the helmet forward slightly so it stands up.
Fold the sides flaps forward.
Patterns, Templates and Printables
Click on a pattern to open it in a new window
Contributor

Jellyfish Jelly – Creative Kids
Jellyfishjelly is the work of Miya Maeda."My work is intended to be a simple guide for non-crafty, "creatively-challenged" parents.  The concept behind this site arose from what I perceived to be the near universal need for parents of small children to find novel and challenging activities to occupy what can sometimes seem like a very long day."