Runny Masterpiece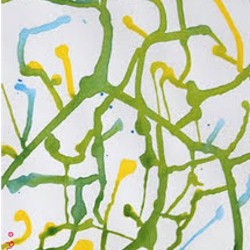 Each project is a new and unique masterpiece that can be used as refrigerator art or matted and presented to friends and family. You never know you might have a future Pollock in the family.
Supplies
Paint, various colors of your choice
Water
Cardstock
Paint brush
Instructions
Start by watering the paint down into a runny consistancy.
Place small droplets of color on the cardstock and immediately tilt and turn the board so that the paint runs in random patterns.  Start with a small number of droplets and add as many more as the young artist enjoys.
It might be a good time to purchase a color wheel and explain complementary and coordinating colors.
Let dry.
Frame with a mat and display the finished product with pride.
This project is reprinted courtesy of PuttiPrapancha.com
Contributor

Putti Prapancha
Roopa Shri Mother of a loving little preschool girl, Putti who is the inspiration and very reason to start her blog - Putti Prapancha. It is the place where she share all her fun activities and creative play.