Recycled Lace Headband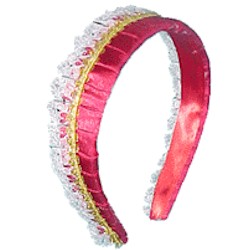 Show the kids how to recycle the lace from a box of Valentine's candy to make this pretty Recycled Lace Headband. Recycling every day materials into craft supplies gives them a second life instead of heading for the landfill. This Recycled Lace Headband will be a hit with all the kids in school.
Supplies
Plastic Headbands
Low Temp Glue Gun
Scissors
12" Piece of 1" Red Ribbon
Empty, Lacey Valentine Candy Box
Instructions
Gently remove the lace from the top of a Valentine candy box.
Hot glue it along the top of a plastic headband letting the lace extend beyond the plastic.
Fold the other edge under and glue into place. Trim off extra.
Glue a piece of red ribbon to the inside of the headband to cover the rough edge. Trim
Contributor

Terri Bose of MakingFriends.com
Terri is the creator of makingfriends.com, freekidscrafts.com, scoutswaps.com and badginabag.com. Her work is republished all over the internet and is considered the queen of kids crafts.