Rosh HaShana Sewing Placard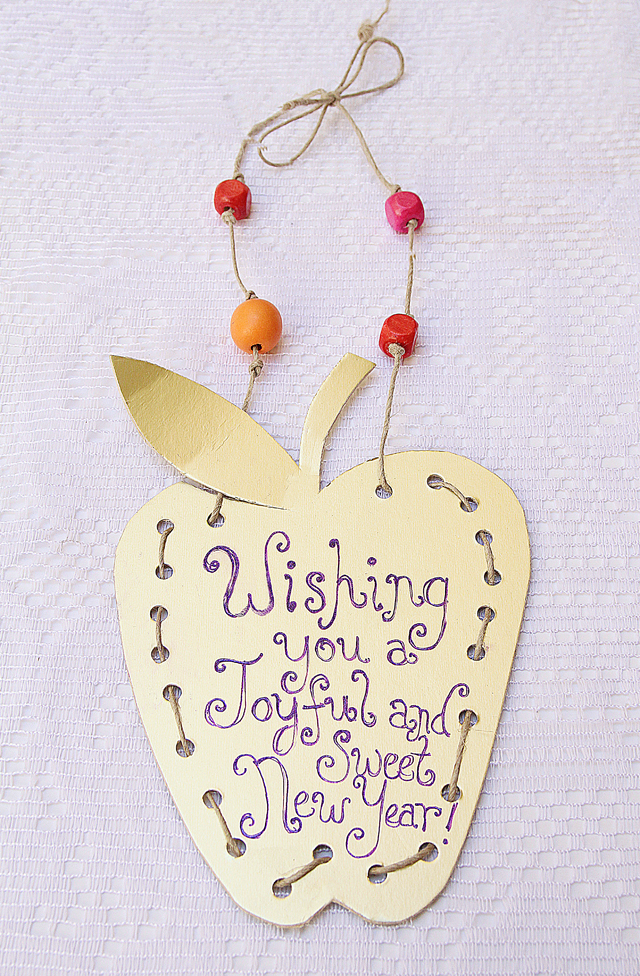 This lovely Rosh HaShana Sewing Placard will hang around year after year to be displayed with fond memories of years past.  This also is a great item to hang on the door of a Jewish neighbor to wish them a Happy New Year.
Supplies
Double sided gold cardboard, or make your own by adhering two lighter weight sheets of gold metallic paper to one another if you can't find the cardboard I used .(Israeli readers: the size is just a bit bigger than A4 and I bought it in my local art supply store.
Hemp string
Wooden beads
Hole punch
Metallic paint pen (I used a regular metallic gel pen, but it smears too easily, so go with something permanent)
Instructions
Using the picture as a reference, draw and cut out your apple, mine is about the size of half of an A4 sheet of paper.
Punch holes around the perimeter.
String your hemp through the holes and add a few beads for fun.
If you'd like, write a message on the front. though this looks great plain too!
Contributor

CreativeJewishMom.com
Visit me at CreativeJewishMom.com. on the exciting journey of giving greater meaning to the everyday through creativity. This blog is my way of sharing with you the joys of crafting, decorating, cooking, and gardening. I love simple ideas, recycling and quick transformations.