Recycled Tee Shirt Backpack
Take that outgrown loved tee shirt and give it a second life as a Recycled Tee Shirt Backpack. No one will recognize that outgrown tee shirt in its new life as a backpack. Start thinking now because school will be starting soon. We've provided step by step photos to help you.
Supplies
T-shirt – any size.
Rotary Cutter and Mat (not necessary but nice)
Scissors
Sewing Machine
Thread
Pins
Material for a Bag Strap – can use fabric 27 inches long for child sized
Shoestring/ribbon/string – something similar in width and strength for casing and closure
Instructions
Lay out your T-shirt
Using your Rotary Cutter and Mat (or scissors) cut off both sleeves at an angle – leaving as much shirt as possible. Then cut off the neck hole as well.
Flip your t-shirt inside out. Now let's attach your bag strap. In one of the corners pin the end of your strap through one layer of the t-shirt. Sew in place.
Tuck the bag stap under and in between the t-shirt layers so it lays flat and comes out the top of the t-shirt. Pin.
Pin the 3 sides you cut and sew together.
Keeping your strap flat and un-twisted, place the other end of the strap in the opposite corner and pin through one layer of the t-shirt. Be sure to place, pin and sew under the finished hemline. Sew in place being careful to not sew through the finished hemline area. We need that area in the next step.
Flip your "bag" right side out. Using the hemline as a premade casing, find the middle of the top and slightly roll the hemline between your two fingers to seperate the two layers. Cut two small slits side by side for your string to go through.
Thread through 1 shoestring, ribbon, string, or whatever you would like to pull the top of your bag together. I found this pair of shoelaces on clearance for .90! Pull the top together, tie it off and strap it on!
These bags for great for your kids to be able to throw on their backs while bike riding or taking to the park. They can hold a water bottle or any of their "treasures" they find while out playing. Perfect for trips too to hold all of their cars/toys/crayons. Take it to the beach or the pool! And one of the great things about this bag? It's machine washable! Just throw the entire bag in the washer and the dryer when it gets dirty!
Images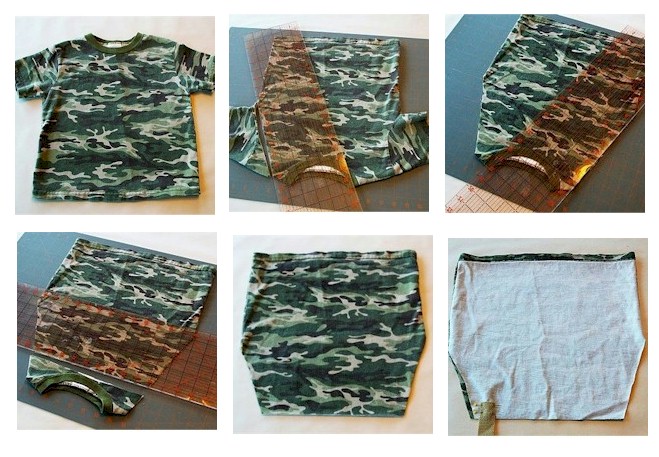 Contributor

Brassy Apple
A small time girl doing what I love – Designing, sewing and creating "brassy" style patterns. I love crafting up my ideas and sharing my tutorials, ebooks and DIY kits.
Contributor

Sudbudz
Want to have some creative family time? Print out our SudBudz® Masks and get crafty with the kiddos! More than just a typical Fizzy Bath Ball, SudPrize® is a first ever line of skin-loving and natural bath products that make bath time Fun for Kids and Easy for Moms. A Free companion App, SudBudz® engages your children into an immersive world of special and unique characters called SudBudz®.