Recycled Spray Bottle Turkey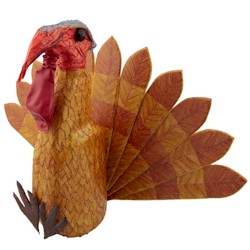 This recycled spray bottle turkey is one of the most unique Turkeys we have seen and it is made from recycled items. Be thankful and teach the kids to turn your trash into treasures.
Supplies
1 empty spray bottle (Make sure you wash it thoroughly and dry it first!)
Cereal box or some cardboard
Regular masking tape
Markers or paint
Instructions
First make sure that you wash your spray bottle completely before you use it. All you really need for Margaret is a spray bottle and something for her tail. Her tail can be as simple as attaching a paper plate, or you can cut out some tail feathers from paper or cardboard. Attach your feathers, add some eyes, color Margaret, and you are done!
This Thanksgiving craft is fun for kids of all ages. If you'd like to make a more elaborate version of Margaret, follow along!
For Margaret's tail feathers, I played around with different supplies and shapes until I found something I thought would be suitable for her. I ended up deciding to make her tail feathers out of pieces of a cereal box that I cut out. But you can use a paper plate or anything you can come up with.
Next I covered each of Margaret's feathers and her body with a layer of masking tape. You don't have to use tape; you can just color her tail and body later with markers or paint.
Margaret needs a beak, so I took some masking tape and attached it to the spray bottle nozzle. I wadded it up and shaped it to give her a nice beak. I added some masking tape to her head to giver her a wrinkly turkey head look. For Margaret's body, I ripped off small pieces of tape and layered them all across her surface to give her feathers.
Margaret needs turkey feet, so I cut out a pair from some cardboard. I attached a small piece of straw to the top of the feet, cut holes in her base, and pushed them in. But you can simply tape or glue Margaret's feet in place.
Maybe it's snowing where you live, so maybe Margaret needs a pair of snow-boots instead. Or flip-flops.
Next I did a few tests of nice colors for Margaret's tail feathers and body. I looked at a few pictures of turkeys and noticed they have banded stripes across their tail feathers, so I made Margaret's feathers look similar. I used markers on her body to give her a feathered look. I added a pair of wadded up pieces of tape for her eyeballs and colored them black.
When I was done coloring Margaret, I attached her tail pieces by gluing them all together first, one at a time (in a fan shape) and then attached the top-most piece to her body with glue. You can use tape as well. Be creative.
Gobble Gobble! Wait, Margaret needs a chin... a turkey's chin is called a "wattle", and I thought the best wattle for Margaret would be a red balloon. Voila! It's Margaret the Gobble Gobble Red Wattle Spray Bottle Turkey!
This craft is reprinted courtesy of LooLeDo.com where the Professor has creative ideas to spur the imagination of kids of all ages.
Contributor

LooLeDo.com
LooLeDo.com | Fun Kids Crafts, Science Projects and More. Step-by-step instructions for hundreds of incredibly cool crafts and science projects that can be built from everyday household objects.