Mom and Me Thanksgiving Apron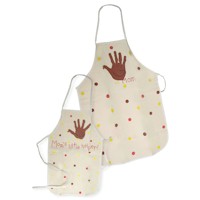 Let the kids help you make these matching Thanksgiving Aprons and watch them glow with pride as they become your number one helper preparing the Thanksgiving feast. What better way for a youngster to spend Thanksgiving but in the kitchen helping Mom?
Supplies
SoSoft Fabric Acrylics
   DSS41 - Burnt Sienna
   SoSoft Dimensional Writers
   DD102 - Cadmium Yellow
   DD104 - Festive Red
   DD115 - Black
Foam plate
Small round brush
Paper towels
Water
3/8" and 3/4" round foam pouncer brushes
Natural canvas aprons
Instructions
Preparation: Cover work surface with newspaper. Lay aprons flat on surface. Have wet paper towels and soap ready to clean hands at sink.
Adult Apron
1. Squeeze and spread Burnt Sienna onto foam plate. With fingers spread slightly, press hand flat into paint and then press hand flat onto apron bib area. If more solid handprint is needed, use small brush to lightly fill in hand shape.
2. Use 3/4" pouncer brush dipped in Burnt Sienna to stamp random dots over apron surface and around handprint. Repeat with Cadmium Yellow and Festive Red Writers. Allow to dry.
3. Use Cadmium Yellow to create small triangle for beak shape on turkey head; paint lines for legs and feet. Use Festive Red to paint small heart-shaped waddle under turkey head and to paint words below turkey.
4. Use Black Writer to paint dot eye on turkey and curved line for wing shape.
Child's Apron
1. Repeat same instructions as above, but assist with stamping handprint and use smaller pouncer brush when stamping dots on apron.
This craft reprinted courtesy of DecoArt.com.
Contributor

DecoArt
DecoArt® has one of the widest selection of paints and finishes for arts, crafts, and home decorating. All DecoArt products are non-toxic and user- and enviromently-friendly. Visit the DecoArt web site for free projects, how-to idea videos, tips and product info, and for the DecoArt on-line store.