Recycled Rosette Centerpiece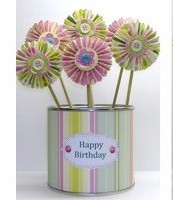 Let the kids have fun crafting while you recycle and transform a peanut can into a pen/pencil/scissors holder and a rosette centerpiece. Kids will have fun making this craft and will take pride as their creation takes the place of honor on your table.
Supplies
Supplies:
Clean Recycled Peanut Can
Scraps of decorative paper
Marbles
Sticks
Double-sided tape
Scissors/Pinking shears
Hot glue
Buttons
Instructions
Rosette: Cut six 1x12 inch strips of decorative paper, accordion-folded. Bring the folds together and adhere with double-sided tape.
Punch or cut twelve 1 inch circles and place them on the front and back center of rosette with a dot of hot glue. Decorate with cut out flowers and buttons. Insert sticks.
Fill can with marbles.
Place rosettes in can.
Print "Happy Birthday" or write your own greetings or add sticker on can.

This craft was designed by Maricel from Fairfax, VA and is reprinted courtesy of  ThriftyFun.com.
Contributor

ThriftyFun
Our goal at ThriftyFun.com is to provide valuable information to help people save money, save time and solve problems. ThriftyFun and its predecessors have been online since 1997. ThriftyFun has grown from modest beginnings to become a vibrant online community. Today, ThriftyFun.com is an interactive Web site where you can post questions and contribute answers to others who are trying to have fun while saving money.