Handprint Sponge Craft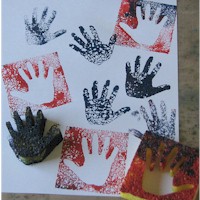 Sponge painting is a fun craft activity to do on a rainy afternoon with the kids. But you will have to be in charge of the exacto knife! So gather the kids around and have a wonderful afternoon making prints.
Supplies
Clean sponges
Scissors
Exacto Knife
Magic Marker
Craft Paint
Blank Paper
Styrofoam Plate
Instructions
Trace the shape of the stamp on the sponge using the marker.
Cut out of the shape from the sponge.
Pour craft paint onto a Styrofoam plate.
Press sponge into the paint.
Stamp away on a piece of paper!
Contributor
Melissa
I\'m Melissa from Kids Crafts (http://kidscrafts.suite101.com), and I love to craft because it\'s a great way of keeping the kids engaged indoors that doesn\'t involve tv or video games. I think crafts are an enjoyable pasttime for both kids and adults, so crafting together makes for some excellent quality time and also allows the kids to  release some of their creative energy.