Recycled Baby Food Jar Stamps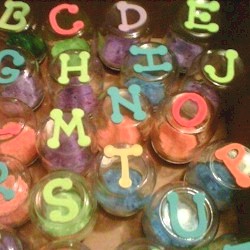 Our newest Contest Winner is Julie Crofford and she loves all kinds of crafts but her favorite is to use things in crafts that can be made from  recycled things such as water bottles, baby food jars,tin cans etc. She lives in Marysville WA with her 7 year old little girl and her husband.
Supplies
Alphabet Stickers & Numbers
Baby Food Jars
Foam
Sponges
Paint
Glue Gun
Instructions
First take and trace around the lid of the baby food jar lid onto a sponge for each stamp.
Then glue sponge to the inside of the lid.
Then take a foam sticker and glue to bottom of the baby food jar (if using letters make sure that you glue them on right some will print backwards if you don't.)
Then place paint onto sponge in the lid to use as a stamp pad and print away.
Contributor

FreeKidsCrafts Contest Winner
IT'S A WINNER! Take a look at what one of our talented viewers submitted to share with you. This craft was selected as one of this month's winners to received $50 in craft supplies. Click here to find out how you can enter your original creation for our judges consideration.
Sorry - Comments are closed