Recycled Animals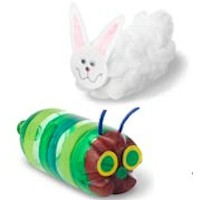 We throw away thousands of plastic bottles every day. Here's an opportunity to give them a second life  as Recycled Animals and teach children the importance of recycling at the same time.
Trivia: By using reusable drink containers an average person can eliminate the need for 100 disposable bottles per year.
Supplies
Empty plastic bottles and containers (i.e. water bottles or 2 liter soda bottles)
Elmer's Squeeze 'n Brush
Elmer's Washable School Glue Gel
Construction paper
Eyes
Pipe cleaners
Paper cups
Paper plates etc.
Instructions
Have each student decide on an animal they would like to create and gather the supplies needed to create that animal. It can even be an animal of their own creation.
Allow students time to create their animal.
Use a plastic bottle or similar type of container for the animal's body
Encourage the students to use creativity and details in their decoration
Set animals aside to dry
Contributor

Elmers