Paper Plate Mouse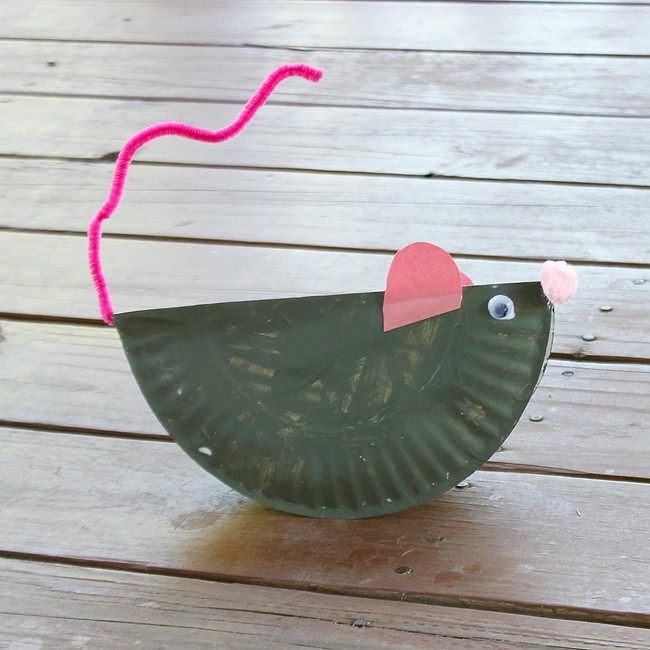 Have the kids turn those inexpensive paper plates into this cute and easy Paper Plate Mouse. This project is a good one for even the youngest crafters.
Trivia: In the 1st–2nd century B.C. the practice of packaging edibles in "paper" begins in China when sheets of treated mulberry bark are used to wrap foods.
Supplies
Paper Plate
Gray Paint
Pink Construction Paper
Pink Pipe Cleaner
Pink Pom Pom
Googly Eyes
Elmer's Glue
Instructions
Paint the outside of your plates with grey paint.
Cut out mouse ears from pink construction paper
Cut out ear shapes from your pink construction paper
Glue your googly eyes onto plate.
Once paint is dry fold your plate in half then glue your googly eyes onto your plate
Glue pipe cleaner to inside of plate On the opposite end of where you glued your eyes, place glue in the inside crease of plate Place pipe cleaner in fold of plate Then place your pipe cleaner in the glue and fold your plate back over so it stays in place
Glue your ears to your plate, then glue your nose on.
Contributor

we-made-that.com
We are two moms who love doing activities and making things with our kids.  We hope to inspire you and your kids with some of our projects!