Rainbow Crayon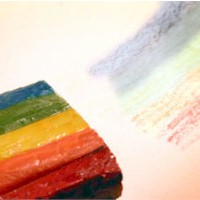 Kids can draw rainbows everywhere; it just takes one stroke. This crayon needs to be created by an adult, but will bring smiles to the faces of young children.
Supplies
Red, Orange, Yellow, Green, Blue, Indigo & Violet Crayons
Tin Foil
Baking Tin
Oven
Instructions
Gather together your crayons, you can use old or broken ones for this.
Take a loaf baking tin and cut the crayons down to size, so that they will fit in the tin. Make sure to cut the pointy drawing side flat.
Take a square of tin foil and lay the crayons on top.
Wrap up the crayons neatly in the tinfoil.
Place back in the loaf tin and melt in the oven for 20 minutes. It\\'s really important that you allow the crayon to cool for at least 10 minutes after baking so that it can set.
When it has cooled, peel off the tinfoil and use a chopping knife to cut of the top of the crayons, leaving you with a nice straight edge for drawing.
This craft reprinted courtesy of CutOutAndKeep.net.
Contributor

CutOut&Keep.net
Cut Out + Keep is an online community for making and sharing step-by-step craft tutorials. Members can try out thousands of how-to craft projects, read our online magazine Snippets, listen to the podcast, read our crafty blog, add friends and chat in the forums. The site was started in 2003 as a craft blog by 23-year-old Scottish crafter, Cat Morley. http://www.catmorley.com