Chocolate Nests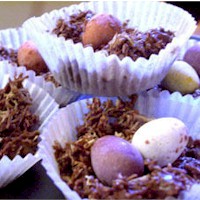 This craft reprinted courtesy of CutOutAndKeep.net.
Perfect treats for Easter. Kids and adults will love these seasonal treats.
Supplies
4 tbsp Sesame Seeds
4 tbsp Honey
24 Chocolate Mini Egg(s)
400 grams Milk or Dark Chocolate
5 Shredded Wheat Bars
12 Cupcake Baking Liners
Instructions
Break up the shreaded wheat in to a bowl.
Break the chocolate up in to a measuring jug and melt down in a pan of boiling water. Stir in the honey.
Mix the melted chocolate in with the shreaded wheat and sprinkle in the sesame seeds.
Place a spoonful of mixture in to a cupcake case and press down a well in the center.
Contributor

CutOut&Keep.net
Cut Out + Keep is an online community for making and sharing step-by-step craft tutorials. Members can try out thousands of how-to craft projects, read our online magazine Snippets, listen to the podcast, read our crafty blog, add friends and chat in the forums. The site was started in 2003 as a craft blog by 23-year-old Scottish crafter, Cat Morley. http://www.catmorley.com