Puzzle Piece Photo Necklace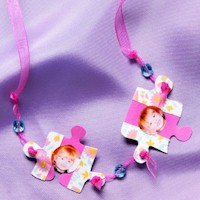 It's no puzzle that moms deserve lots of love, especially on Mother's Day! Bring a smile to Mom's face with this Pieces of Me Necklace, so she can wear your smiling face the whole day through!
Supplies
Aleene's® Crystal Clear Tacky Spray™
Pencil
Hole punch – 1/16"
¼" Ribbon – organdy
Scissors
Card stock – pink
Wood skewer
Photos
Paper – coordinating pink print
3 Beads – medium size – aqua
Puzzle pattern
Instructions
Cut two strips of pink cardstock about 3"x 6". Lay one piece on spray area with the right side down. Layer this piece on top of the remaining piece. Cut out the puzzle patterns and place them on the pink cardstock pieces, then trace and cut out.
Using the same puzzle piece patterns, trace onto the back of the printed-paper and cut out. Cut a ½" strip out of center area on both pieces. Refer to photo. Spray the back of each piece with Aleene's® Crystal Clear Tacky Spray™ and attach to the corresponding area of the pink puzzle pieces. TIP: It is helpful to use a skewer to hold down the small pieces when spraying so they won't move with the force of the spray.
Punch holes on each side in the protruding areas.
Cut the faces from your photos to fit the puzzle pieces. Spray the back of each one with Tacky Spray™ and place in the center of the puzzle pieces.
Cut a piece of ribbon and trim one of the ends into a long sharp point and thread one of the beads to the center of the ribbon. Place each end of the ribbon through the holes on one side of each puzzle piece and tie a knot at each end to secure. Trim excess ribbon.
 
Cut 2 pieces of ribbon about 15" long. Thread one end of ribbon through a bead and then through the outer hole on one of the puzzle pieces. Tie in place as before and tie another knot just past the bead to keep it in place. Repeat process for the other side. Tie the ribbon ends together to the length desired.
This craft is reprinted courtesy of ILoveToCreate.com.
Patterns, Templates and Printables
Click on a pattern to open it in a new window
Contributor

Sudbudz
Want to have some creative family time? Print out our SudBudz® Masks and get crafty with the kiddos! More than just a typical Fizzy Bath Ball, SudPrize® is a first ever line of skin-loving and natural bath products that make bath time Fun for Kids and Easy for Moms. A Free companion App, SudBudz® engages your children into an immersive world of special and unique characters called SudBudz®.