Punch Out Christmas Tree Card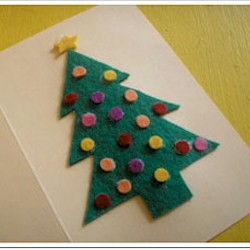 This simple Christmas card can be made from felt, foam or construction paper depending on what supplies you have on hand.
Supplies
Blank cards
Felt (in green and some contrasting colours)
Hole punch
White glue
Scissors
Instructions
1. Cut some christmas tree shapes from green felt. For best results, make a  template from cardboard or trace around a tree shaped cookie cutter.
2. Use a hole punch to cut small circles from different colours of felt.
3. Stick the tree on the card. Then glue the dots on using white glue.
4. We used a star shaped paper punch to make a felt star...
6. the perfect finishing touch!
Note: For a slightly simpler version, cut a tree from green paper and use spotty stickers to decorate!
This craft was reprinted courtesy of KidsCraftWeekly where you can find newsletters focusing on kid friendly themes.
Contributor

kids craft weekly
Each issue of Kids Craft Weekly outlines a selection of activities for young kids. The ideas in are intended to be cheap, educational and fun and can be used as suggested, or simply as a starting point from which you can develop your own plan of attack.