Popcorn Paper BagTurkey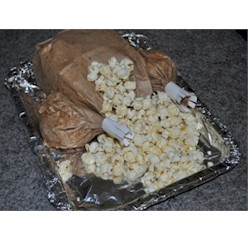 Thanksgiving is almost here so get the kids into the spirit as they make their own "ready to eat" turkey from lunch bags and popcorn.
Supplies
3 lunch size brown paper bags
Glue
Scissors
Popcorn, or something to stuff turkey with
White paper
Instructions
Fill one lunch bag 3/4 full of popcorn

Fold the end and glue underneath

Crumple the corners to round out the body.

Fill the two other lunch bags with about a cup of popcorn.

Twist the end and crumple the corners again to round out your drumsticks.
Cut off the excess bag and tape in place.

Create dressings for the legs, from white paper. Attach these to each leg.
Glue the legs onto the body.

For more detailed instructions and great step by step pictures check out www.easy-crafts-for-kids.com/thanksgiving-crafts-for-kids.html
Contributor

Easy Crafts For Kids
Join the Crafty Critters over at easy-crafts-for-kids.com for tons of easy crafts with simple step by step instructions. Stop by and meet the critters!