Printable Fall Word Search Puzzle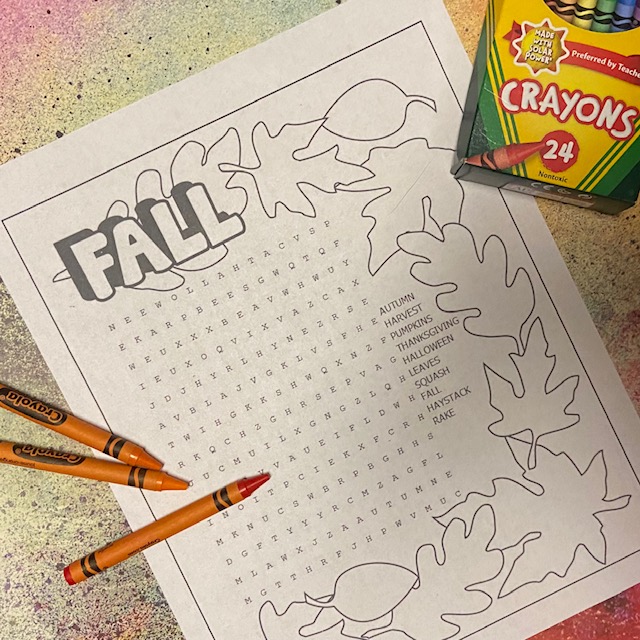 Autumn starts September 23rd. After the kids have helped rake the leaves and enjoyed the outdoors have them come inside and settle down with our Printable Fall Word Search Puzzle. It keeps their brain working while they are having fun.
Trivia
Evergreens: pines, spruces, cedars, firs, and so on are able to survive winter because they have toughened up. Their needle-like or scale-like foliage is covered with a heavy wax coating and the fluid inside their cells contains substances that resist freezing. Source: Forest Service U.S. DEPARTMENT OF AGRICULTURE – Science of Fall Colors
Supplies
Paper.
Printer
Pen or Pencil
Crayons, Markers or Colored Pencils
Instructions
Click on the puzzle below and print out as many copies as you need.
Set the children down at a well lighted work space and let them get to work searching out their favorite Fall words.
Puzzle
Click on the puzzle below to open it in a new window to print in the correct size:

Supplies
Instructions
Contributor

Sudbudz
Want to have some creative family time? Print out our SudBudz® Masks and get crafty with the kiddos! More than just a typical Fizzy Bath Ball, SudPrize® is a first ever line of skin-loving and natural bath products that make bath time Fun for Kids and Easy for Moms. A Free companion App, SudBudz® engages your children into an immersive world of special and unique characters called SudBudz®.