Pringles Kaleidoscope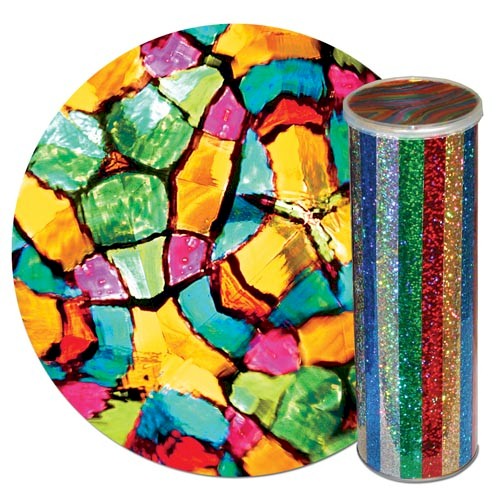 Make a Pringles Kaleidoscope with a few simple materials. Kaleidoscopes have fascinated kids over the years and will continue to provide hours of fascination.
Supplies
Pringles Canister
Craft Knife
Tape
Scissors
Awl or Needle Tool
Needle Nose Pliers
Instructions
With a craft knife, cut three 2-1/2" wide panels out of the 12x12" sheet of chipboard (the panels should be as tall as your potato chip canister, since not all canisters are the same height you will need to measure). Using a glue stick, glue pieces of mirror paper (slightly larger than the chipboard) onto each of the three panels. Trim the excess mirror paper from the edges.
Tape the three panels together on the chipboard side. Now fold the panels, so that the mirror paper faces inward, and tape the edge.
Poke a hole in the metal end of the potato chip canister with an awl or other sharp tool, like a Kemper Needle Tool. Insert needle nose pliers into the hole to enlarge it to around 1/4" in diameter. Place the mirror assembly into the canister.
Use glass markers to color the inside of the cap.
Decorate the canister with holographic self-adhesive paper.
If you have extra caps you can add small beads, yarn or string and tape caps together instead of painting. (You will need beads, string, yarn and other small objects, etc.) View picture from Step 4 for an example of how it looks.
You can punch out shapes with a punch, if desired (before the backing is peeled away) for extra accents. View picture from Step 5 and see blue kaleidoscope for example.
Contributor

United Art & Education
United Art & Education offers over 150 Free Project ideas for the art classroom or at home.  Discover a unique selection of products that make learning creative and fun! Choose from teaching resources and decorations, early learning items, and a range of art materials for art educators and students, plus some great gifts.