Pop Up Flower Garden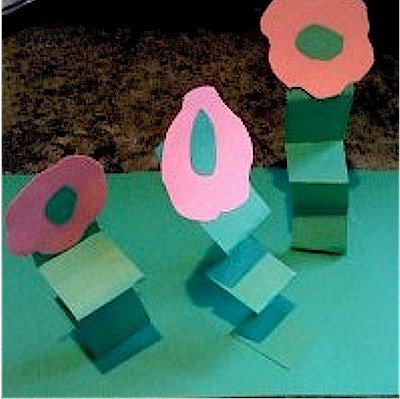 What is more fun for a child than making an indoor Pop Up Flower Garden on a rainy day. Let kids make as many flowers for their garden as they want to. Crafts are the best rainy day activities!
Supplies
Construction paper -Green and Pink (or what ever color you want the flowers to be)
Green Oak tag for bottom or a piece of cardboard to glue Construction paper too.
Glue Stick
Scissors
Instructions
Glue Construction paper to Cardboard
Cut one inch Strips for Stems
Fold Stems accordian style, keep folded for a few minutes under a book (if you have green oak tag, you can use this for sturdier stems)
Cut out flower shape from pink construction paper
Cut out green circle for inside flower
Glue circle on flower
Glue Flower on Stem
Glue Stem on base
Repeat for however many flowers you want to make!!
Contributor

ToddlerCraft
ToddlerCraft is a blog dedicated to fun, educational crafts and tips for kids ages 1-7.  There are always new educational activities, parenting ideas and stories to discover at Toddler Craft.