Bean Bag Bunny
We've selected the Bean Bag Bunny for our feature craft for kids, but you find even more bean bag animal templates on FirstPalette.com so don't stop at one.
Supplies
A4 or Letter size paper
Craft foam
Beans or rice
Scissors
Pencil
White glue
Scissors
Needle and thread
or glue gun
Pompoms
Cotton
Wiggle eyes
Instructions
Click on Printables and print out the Bunny Bean Bag template. Cut out the template pieces.
Trace each template piece onto craft foam. Follow the instructions on the template.
Cut out the craft foam pieces.
Mark the positions of the animal\'s ears on the top body piece.
Cut slits along the marked points, making sure they\'re wide enough for the ear\'s base to get through.
Insert the ears through the slits.
Fix the ears in place either by sewing or by attaching with a hot glue gun.
Seal the slits by sewing or gluing with a hot glue gun.
Glue on the inner ears on the rabbit.
Glue on the legs and tail on the bottom body piece.
Join the top and bottom body pieces either by stitching or gluing the edges together. Leave a 2-inch opening at the mouth.
Pour in 1 ½ to 2 cups of beans or rice into the opening on your animal bean bag.
Seal the opening shut by sewing or using a glue gun.
Add detail on your bean bag by gluing on any of these materials:
Eyes - wiggle eyes, craft foam cut outs, buttons, pompoms, or cotton balls
Nose - pompom or cut out a nose shape from craft foam
Rabbit\'s tail - big cotton ball or large pompom
Patterns, Templates and Printables
Click on a pattern to open it in a new window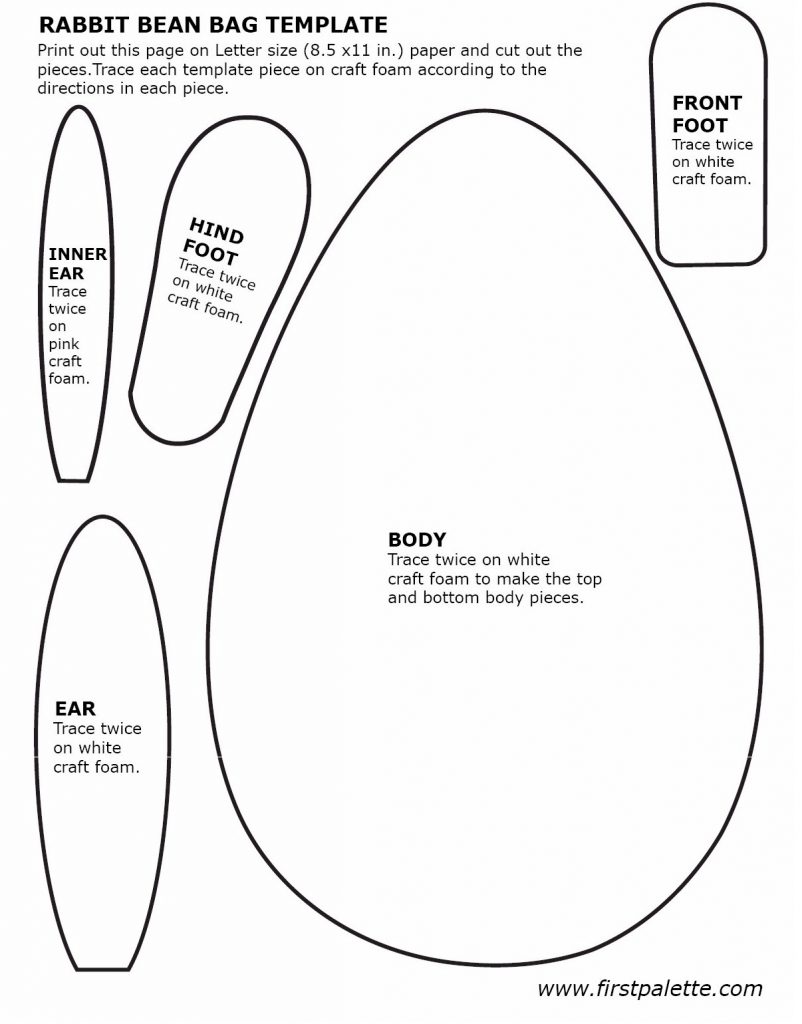 Contributor

FirstPalette.com
A free resource for fun and educational kids' crafts, the site features a step-by-step guide for each craft project and includes printable templates, art recipes, and environment-friendly tips for crafting.