Pop Up Flock of Birds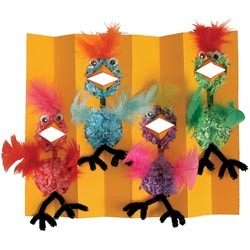 Pop Ups are always fun to make and enjoy afterwards. This flock of birds will set the tone for a cheery day in the classroom or at home. 
Supplies
Scissors
Markers
White School Glue or Tacky Glue
Tape
9 x 12 Tag Board
Circle Templates
Phlox Collage Material
Feathers
Black Chenille Stems
Wiggle Eyes
Instructions
Step 1: Accordion fold a 9x12" sheet of bright tag (seven folds, eight spaces). With scissors, cut a slot on every other fold. Fold paper to one side at 90° angles.

Step 2: Unfold paper and push out paper to form four beaks.

Step 3: Use markers to outline beaks and color bird bodies and heads. (To make perfect 1¾" circles you can use a template.)

Step 4: Glue Roylco Plox to the bodies and heads in coordinating colors.

Step 5: Bend a chenille stem into 3/4" segments, pinch together and wrap stem around to create a foot, repeat on the other end.

Step 6: Glue on eyes. Poke holes through the paper and insert feathers and feet for each bird, tape the back to keep them secure.
This project is reprinted courtesy of United Art & Education.
Contributor

United Art & Education
United Art & Education offers over 150 Free Project ideas for the art classroom or at home.  Discover a unique selection of products that make learning creative and fun! Choose from teaching resources and decorations, early learning items, and a range of art materials for art educators and students, plus some great gifts.