Paper Plate Gratitude Flowers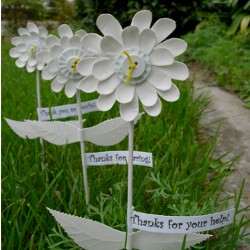 Use a plain paper plate, buttons from your stash and a small piece of embroidery floss to create your own Paper Plate Gratitude Flowers as a gift to a special person, teacher, or parent. 
Supplies
Aleene's Original Tacky Glue in the Gold Bottle
White fluted paper plates
Scissors
Pinking shears
Stylus embossing tool
Wooden skewer (one per flower)
Acrylic paint – white
Paint brush
Printed thank you sentiments
Buttons – white – multiple sizes
Embr foam sheet (for use when embossing)
Clothespin 
 oidery floss – yellow
Craft
Instructions
Click on Printables and trace patterns onto center of paper plate.
To create the flower petals, use the fluted edge by cutting each flute to round the edge.
Then cut down each side to create petal. Cut leaves and flower center along pattern lines.
Cut approximately 20 petals for each flower. Apply Aleene's Original Tacky Glue to flower center.
Glue outside row of petals to flower center. To create center row of petals, cut to shorten each petal. Apply glue to back of petal and glue in place over back row of petals.
Apply glue to end of embroidery floss. Rub between fingers to create "needle" on end of floss. Stack two buttons. Insert floss through top of one side, underneath and back up other button hole. Tie floss in knot. Cut to approximately 1/4″.
Place cut leaves on craft foam. Draw leaf line and veins in each petal with embossing tool. Gently fold up at leaf line to add dimension to your leaves.
Paint wooden skewer white. Let dry. Press center of leaves over skewer.
Apply line of glue between leaves and skewer. Fold and secure with clothespin.
Print sentiments on printer (right flush). Cut into strips.
Apply glue to back of strip. Fold over wooden stem and align layers. Cut off excess paper.
Cut along outside edge of leaves with pinking shears. Double cut with shears to create smaller zig zag pattern. Glue back of flower to stem. Let dry. 
This craft is reprinted courtesy of Heidi Borchers for Inspired At Home where you will find a video tutorial for this craft.
Contributor

Heidi Borchers for inspiredathome.com
Heidi Borchers hails from the first family of crafting. As daughter of Aleene Jackson, inventor of Aleene's Tacky Glue, Heidi's creative design projects have delighted worldwide crafters for over 30 years. Heidi's specialty is eco-crafting and she is the author of hundreds of craft books. She is co-host of Inspired at Home Radio, a live weekly talk-radio show featuring ideas for living a creative life. www.inspiredathome.com