Pool Noodle Light Sabers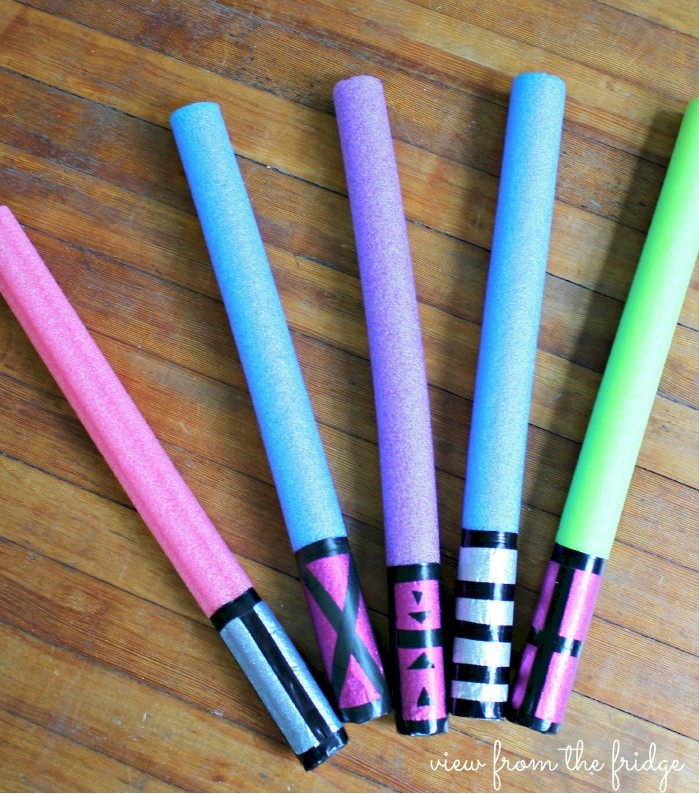 You can repurpose those pool noodles you have laying around the yard into fun Pool Noodle Light Sabers for every day fun or you can buy inexpensive new ones for that Superhero party.
Trivia: The pool noodle is North America's top selling water toy. The Brampton, Ontario factory produces and sells an estimated 70% of all pool noodles in North America.
Supplies
Pool Noodles (each full size pool noodles makes two light sabers). I bought my noodles at Target for $2 a piece. I choose the 2″ diameter noodles (as opposed to the 3″ for twice the price). I just grabbed a couple of every color they had.
Sparkly Duct Tape
Plain silver duct tape
Black Electrical tape
Instructions
Cut the noodle in half.
Stick the ends of the X down to the sides of the noodle
Using the sparkly glitter duct tape, cover the end with 5-6 pieces of tape.
Use the black duct tape, create designs over the duct tape. You can get as fancy or as plain as you want here. In the interest of saving time, I choose the more simple look!
Contributor

View From The Fridge
Katie is the writer and creator of View From The Fridge. She is also the mom to two adorable little boys (and another baby on the way), and wife to a great guy! She loves to craft, decorate, dream up projects for her home, and she's learning to love to cook (though not there quite yet). She started View From The Fridge in the fall of 2013. Katie also enjoys coffee, a good glass of wine or beer (when she's not expecting!), running, and anything outside. She lives in Minnesota and takes full advantage of the wonderful (but short) summer season outside with her family.