Fabulous Footprints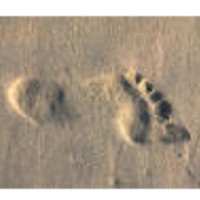 Bring home memories of a fun day at the beach long after the vacation is over with these fabulous Footprints. They will make you smile every time you see them.
Trivia: Sandy beaches are mostly made of silica (SiO2) in the form of the mineral quartz.
Supplies
Shoe Box
Tray
Sand
Plaster of Paris
Bowl
Water
Instructions
Fill your box or tray with sand and sprinkle it with water just so that the sand is held together.
Step into the sand and remove your foot, leaving a nice footprint.
Create a plaster of paris mixture in a bowl. Plaster of paris is available at most craft stores.
Pour the plaster of paris into the footprint-don't overflow the footprint! Let the plaster of paris dry- about a week- and remove your foot. Use it as a scary prop, a paper weight, decorate it- You decide!
Ediitor's note: You might want to try this with Sand Dough.
Contributor

thebestkidsbooksite.com
This site contains suggested reading material and crafts to help young readers relate to the stories.