Pleated Paper Angel Ornament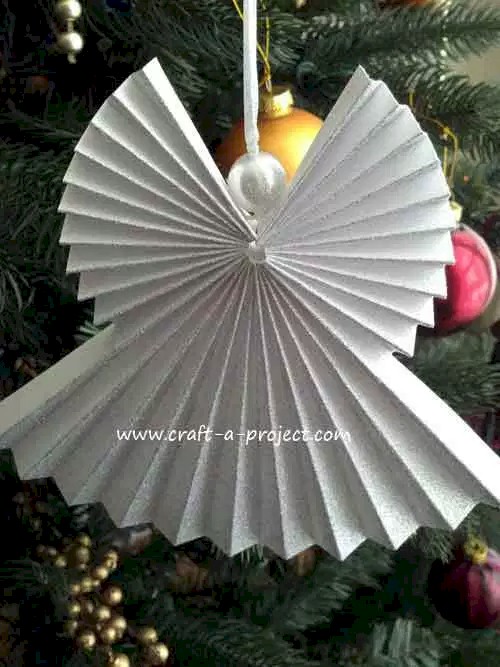 Angels are delightful any time of year but they are especially lovely decorating the Christmas tree. This Pleated Paper Angel Ornament is fairly easy to make and is based on a pleated fan concept. Just picture how pretty they will look on the tree and how proud the kids will be to know they made them.
Trivia: An angel is generally a supernatural being found in various religions and mythologies. In Abrahamic religions and Zoroastrianism, angels are often depicted as benevolent celestial beings who act as intermediaries between God or Heaven and Earth. Source: Wikipedia – Angel
Supplies
Card stock or a heavy paper
Ribbon and Needle
Bead
Hole punch
Scoreboard
Scissors
Instructions
Using your scoreboard or ruler, score your paper at the half inch mark while the paper is in landscape mode.
Cut 2 inches off the longest edge of the paper twice to create the wings.
Now, you will fold all three pieces of paper in a fan like manner. When you begin, your first fold should be away from you. This way the last fold will be folded away from you as well.
Using a hole punch, punch holes on the top of all three sheets, evenly.
Take all three pieces of your Christmas Angel Ornament and over-lap them on the ends. This is where folding them in the direction I told you before will really help out, and your holes will match up.
With the ribbon your chose, lace it through the holes and even through the double layered ones as well. I didn't have a measured length of ribbon, I used it on the roll then cut it after I laced it through the holes.
Once you have the ribbon laced through all the holes you will pull it very tight. Once you have it tight and you can see the wings form, tie a knot.
You can use any size bead you want for the head, but you need to make sure your bead has a hole big enough to get both strands of the ribbon through. Once you have the ribbon through the bead hole, tie another knot to hold the head in place.
I made my ribbon above the bead 3 inches long, but again depending on what you will use this Christmas Angel Ornament for the length is up to you. Tie it off at the top, and you're done!
Additional Images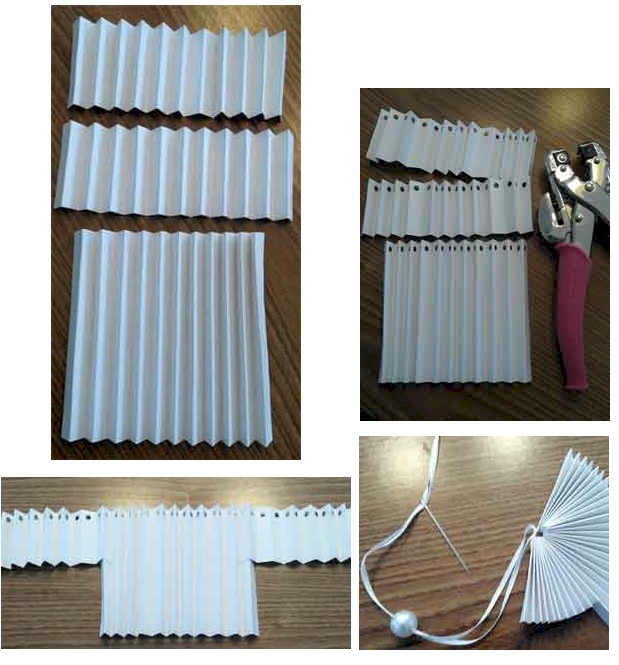 Contributor

Craftbits.com
Our website was created by a mother and daughter team, adding a unique combination of crafting qualities and expertise of creativity. We started our website after numerous years in the area of craft, teaching, retail craft and owning a gift store. We decided to launch it to provide resources for teachers, therapists, and craft enthusiasts in the year 1999. Since then, the website has grown tremendously in terms of content and resource information.
Supplies
Instructions
Contributor

Sudbudz
Want to have some creative family time? Print out our SudBudz® Masks and get crafty with the kiddos! More than just a typical Fizzy Bath Ball, SudPrize® is a first ever line of skin-loving and natural bath products that make bath time Fun for Kids and Easy for Moms. A Free companion App, SudBudz® engages your children into an immersive world of special and unique characters called SudBudz®.