Easy Clothespin Nutcracker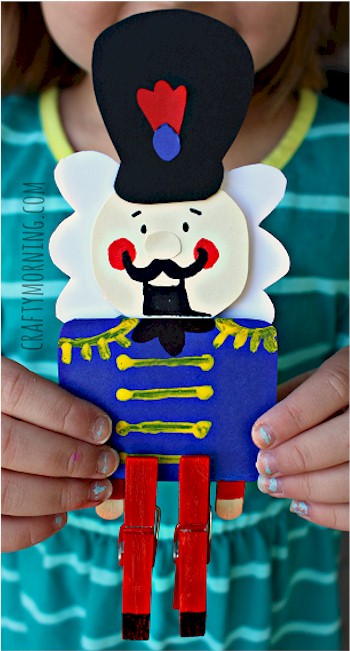 'Tis the time of year for the nutcracker to come alive. Get ready to tell the story  as the kids make this Easy Clothespin Nutcracker. And there is bound to be a production of the Nutcracker Ballet somewhere close by.
Here are some books you might want to share with your children:
Mary Engelbreit's Nutcracker by Mary Engelbreit
Nutcracker by E.T.A. Hoffmann and Maurice Sendak
The Nutcracker by New York City Ballet and Valeria Docampo
Trivia: The first wooden nutcrackers were simply two pieces of wood fastened together by a leather strap or metal hinge. By the 15th and 16th century, wood carvers in France and England were creating beautiful wooden nutcrackers. They used the wood from their locality, but preferred boxwood because of its fine grain and uniform color. Source: Nutcracker Museum – The History of Nutcrackers 
Supplies
2 Clothespins
Paint: red, yellow
Paper: Blue, tan, white, black and red
Red and black sharpie markers
Glue/Tape
Scissors
2 miniature popsicle sticks
1 big popsicle stick
Instructions
Start by taping two mini popsicle sticks to a blue square piece of paper. Cut out a head and a hat with paper. Paint the two clothespins red as well as the Nutcracker's arms on the popsicle sticks
Take some yellow paint and make the buttons on the Nutcracker's shirt. Cut out some white hair with paper and glue it to the head. Take a big popsicle stick and glue/tape it from the tip of the hat down to the body so it's sturdy (if needed).
Once the red paint is dry, color the bottom with black sharpie to make the shoes. Clip on the two clothespins for legs and you're done!
Additional Images
Contributor

Sassy Dealz
"Michelle has a teaching degree and for the love of art she started sharing kids crafts on her blog to inspire teachers, parents, and the little ones! SassyDealz.com is not only a craft website, but also a place where you can find online bargains and freebies!"
Supplies
Instructions
Contributor

Sudbudz
Want to have some creative family time? Print out our SudBudz® Masks and get crafty with the kiddos! More than just a typical Fizzy Bath Ball, SudPrize® is a first ever line of skin-loving and natural bath products that make bath time Fun for Kids and Easy for Moms. A Free companion App, SudBudz® engages your children into an immersive world of special and unique characters called SudBudz®.