Pipe Cleaner Butterfly Craft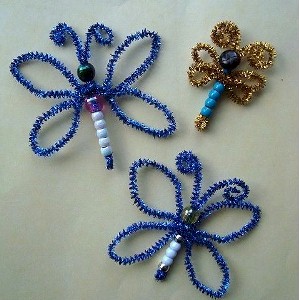 The kids will love making this Pipe Cleaner Butterfly Craft in all different colors and combinations. They could add a pin to the back and make it into a pin as a gift or wear it themself.
Trivia: The most common species of butterfly is the Monarch.
Supplies
3 Glitter Pipe cleaners
5 pony beads
2 larger beads or buttons
Instructions
Make the body: Fold a pipe cleaner in half. Fold up the folded end up a bit so the beads won't pass through.
Place 5 pony beads on through both ends of the pipe cleaner.
Place the larger bead, or button on to form the head. Push all the beads to the bottom (folded end) of the pipe cleaners.
Form the 2 ends of the pipe cleaner into spirals to form the antennae.
Make the wings: Form one pipe cleaner into a circle. Twist the ends together, but leave 1 inch at the end for attaching it to the body of the insect. Then twist the circle together in the center to for a figure "8". Do that with the remaining pipe cleaner as well.
Attach to the body, between the head and the next bead, by twisting the 1 inch protruding ends of the pipe cleaners around the body of the insect. Reshape the wings and antennae.
Contributor
FaveCrafts.com
FaveCrafts is owned by Prime Publishing LLC, an Internet Media Company that operates web site communities, e-mail newsletters and e-commerce stores in niche areas such as crafting, home décor, wellness, and cooking. See their craft projects at https://www.favecrafts.com/