Pinecone Turkey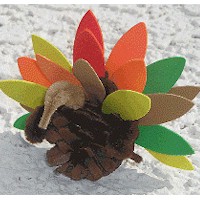 This Pinecone Turkey is a simple craft that even little kids can do with a bit of help. Supplies are inexpensive and easy to find, and instructions are easy. Stand your turkey on a shelf or hang him from a string, either way he makes a cute display your youngster can be proud of!
Supplies
Pinecone
3-4 each foam leaves in orange, red, yellow, green and tan
Tan "bump" chenille stem cut in half (head)
Brown "bump" chenille stem (wings)
Craft or white glue
Instructions
This step you can do ahead of time, especially if you are doing this craft with a classroom or group of children. Place all pinecones on a foil lined baking sheet and cook for 45 minutes at 200 degrees F. This process will kill any insects or spider mites that may have been living in them.

Lay pinecone on its side and drip some glue into the bottom layer, then insert foam leaves into the glue. Repeat this process for 2-4 layers, depending on the size of your pinecone (ours has three layers).

Put some glue close to the front of the pinecone, then stretch the brown bump chenille stem so that it is straight. Center it over the top of the pinecone and insert it into the glue so that "arms" are sticking out both sides. Bend the ends of the stem so that they look like wings.

Insert the tan bump chenille stem in front or in the same slot as the brown stem. Bend the end of the tan stem to look like a head. See photo.

You can stand this as is or if your pinecone is too wobbly, you may choose to hot glue it to a piece of cardboard for stability. You can also tie a string around the body and hang it from the ceiling.
This craft reprinted courtesy of SheKnows.com.
Contributor
SheKnows.com
Founded in 1999, SheKnows.com, the web for women, covers everything for the everyday women. With exclusive articles and content on pregnancy, parenting, health, hobbies, home décor, money management, crafts, weddings, fashion and celebrity gossip, Sheknows is the new source for women. Serving as the hub for a family of web properties targeting women, SheKnows is currently one of the top Women sites on the web.