Hanky Kitty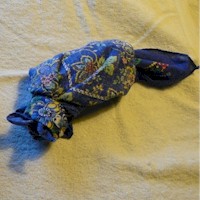 In pioneer days kids toys were made out of materials at hand like this Hanky Kitty that would make an economical pet and provide hours of companionship for the active mind. Your hanky can be one of your collection or a Dollar Store find.
Supplies
Willing Hands
Bandanna
Instructions
Begin by folding the bandanna in half diagonally to make a triangle:
Gather the top corner and tie both layers in an overhand knot:
Pull the ears apart.
This makes a bat-like figure with outstretched "wings".
Tie the "wings" in an overhand knot and pull tight.
One corner becomes the tail, the other the front paws. Fold the front paws back:
You can now either tuck the corner into the kitty's tummy to make folded paws...
Or roll it up to make two paws poking out. After rolling it up, poke the middle and tuck it into the front of the tummy.
Turn over. This completes Hanky Kitty.
If you enjoyed this page, you might also want to see the instructions for making Anna Bandanna
This craft is reprinted courtesy of Karen Robinson.
Contributor

Karen Robinson
Karen Deal Robinson loves to make things, especially fun things that don't cost much to make. She's interested in hiking, writing, dancing, sundials, labyrinths, and playing musical instruments, among other things. She's a math teacher at a communitycollege. She lives in Colorado with her husband. They have a grown son and daughter.