Perfect Pencil Pal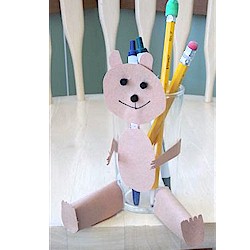 Our newest contest winner is Katelyn from Milford, Indiana and she is 10 years old.  She loves making crafts at her aunt's house like this pencil pal.
Supplies
Scissors
Brown paper
3 pom pom balls
Black marker
Hot glue gun
Small drinking glass
Instructions
Cut out a circle from your brown paper to make the head. Then cut out an oval for it`s tummy. 2 arms with thumbs up, 2 feet and 2 legs.

Draw dots on the head to know where to place your eyes and mouth, then place them with the hot glue. Know attach the feet to the legs.

Now carefully attach the head to the top of the glass, now add the tummy and arms.
Finally finsh your perfect pal by adding it's feet.
Contributor

FreeKidsCrafts Contest Winner
IT'S A WINNER! Take a look at what one of our talented viewers submitted to share with you. This craft was selected as one of this month's winners to received $50 in craft supplies. Click here to find out how you can enter your original creation for our judges consideration.