Cinco De Mayo Hair Clip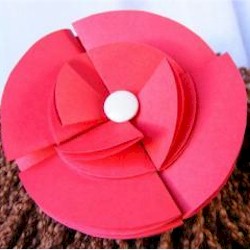 Accessorize for your Cinco De Mayo celebration with this handmade hair clip craft! Girls will enjoy making them in vibrant colors to match all their outfits.
Supplies
Ultra Thin Glue Dots
Mini Glue Dots
1" Glue Lines
Cardstock
Circle punches (or circular objects to trace)
Button
Needle
Thread
Hair clip
Instructions
Make or punch 5 large (3.25" diameter) and 4 small (2" diameter) circles from cardstock.Fold four of the large circles in half, twice.
Add Ultra Thin Glue Dots to the inside of each circle to keep them folded.
Adhere Mini Glue Dots to the back of each folded circle and adhere to the large circle that is not folded.
Repeat the folding process with the four small circles and use Mini Glue Dots to adhere them to the large folded circles.
Attach the button to the center of the paper flower using a needle and thread and a Micro Glue Dot to secure it in place.
Add the hair clip to the back of the flower using 1" Glue Lines.
Contributor

Glue Dots
Glue Dots® Adhesives – The New Way to Glue™!  Consumers have found endless uses for Glue Dots around the home, school, and office.  Glue Dots adhesives are acid-free, lignin-free, non-toxic, easy-to-use, and require no dry time.  Glue Dots adhesives provide a strong, versatile and safe adhesive solution that can be used by the entire family. Use Glue Dots adhesives for school projects, home décor, and around the office – the possibilities are endless!