Penguin Print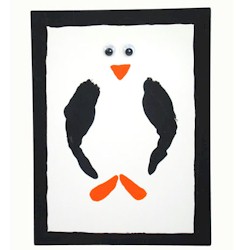 Everybody loves Penguins so this easy craft project will be a favorite with all the kids.  This simple Penguin Print is a variation of the typical handprint craft.
Supplies
Elmer's Washable School Glue™
Elmer's Mini Foam Display Board™ or White Construction Paper
Acrylic Paint
Jiggly Eyes
Instructions
Mix black paint with a small amount of Elmer's Washable School Glue™.
Cup your hand so that it makes a "c" shape. Press your hand into the paint mixture, pinky finger down.
Press your cupped hand onto the foam board, placing the heel of your hand at the top of the board and your pinky finger at the bottom.
Repeat steps two and three using your opposite hand. Press the heels of your hands together on the foam board so that they are almost touching. This will form the penguin's wings.
Paint a beak and feet on your penguin.
Glue a pair of Jiggly Eyes above the beak.
Let the paint and the glue dry completely on your penguin print.
You can also make penguin wrapping paper! Use white wrapping paper or large sheets of white paper. Make "penguin prints" all over the paper. Use the penguin-print paper to wrap special gifts for others.
Contributor

Elmers