Coffee Filter Snowflakes With A Message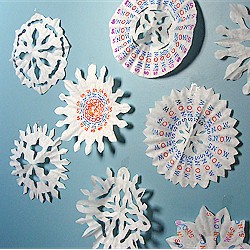 If you are wishing for snow or are snowbound already this is a great project. Coffee filters are great for crafting, and they also make perfect material for snowflakes, since they're already round! These Coffee Filter Snowflakes with a Message are a fun variation on the standard snowflake craft.
Supplies
Coffee Filters
Stamp Pad and Alphabet (optional)
Scissors
Instructions
Fold the coffee filters in the same way that you would to make regular paper to make snowflakes. Just don't cut off the top.
Fold the coffee filter in half, then half again and one more time and cut out your own unique snowflake pattern.
If you want to punch it up. Stamp your snowflake wth wishes for snow or leave them plain.
Contributor

CreativeJewishMom.com
Visit me at CreativeJewishMom.com. on the exciting journey of giving greater meaning to the everyday through creativity. This blog is my way of sharing with you the joys of crafting, decorating, cooking, and gardening. I love simple ideas, recycling and quick transformations.