Pear Paint Chip Mosaic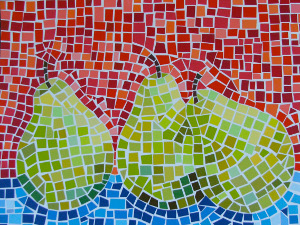 Create a beautiful Pear Paint Chip Mosaic that is pretty enough to hang on the wall. This craft is good for teens with patience. The concept is simple but cutting all the little squares and gluing them down will take a little time but is well worth the effort. If you like the idea but would rather pick a different picture, go right ahead.
Supplies
Paint chips or scrap paper
Poster Board
Elmers glue
Scissors
Pencil
Ruler
Saral transfer paper
8 x 10 Frame
Instructions
Collect free sample colors from department stores or paint stores. Choose a variety of shades. For example, if one of the colors to be used it's green then choose as many different variations of green ranging from light to dark.
Pre cut your free color samples into 1" squares or smaller (this step is optional if you prefer you can cut as you go). Keep in mind that this little squares don't have to be of a perfect measurement. They can be re cut to fit.
a specific area later on.
Use your picture frame insert as a template to cut the poster board so that it can fit into the picture image: http://images.intellitxt.com/ast/adTypes/icon1.png
frame. Following the manufactures instructions transfer the pear pattern to the poster board.
Start gluing your colors with Elmer's glue. Do small sections at the time as your schedule allows you to. Paper mosaic can be a little time consuming but is an inexpensive form of art
that is very gratifying to see when it's done.
Frame your beautiful mosaic art.
Patterns, Templates and Printables
Click on a pattern to open it in a new window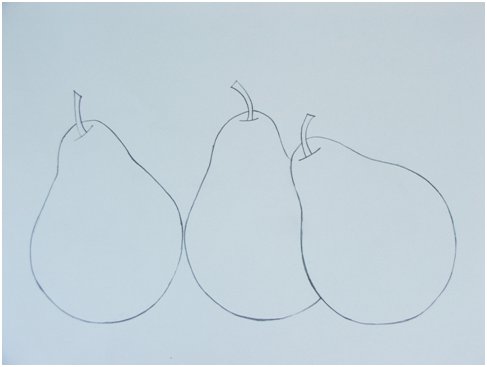 Contributor
FaveCrafts.com
FaveCrafts is owned by Prime Publishing LLC, an Internet Media Company that operates web site communities, e-mail newsletters and e-commerce stores in niche areas such as crafting, home décor, wellness, and cooking. See their craft projects at https://www.favecrafts.com/