Duck Handprint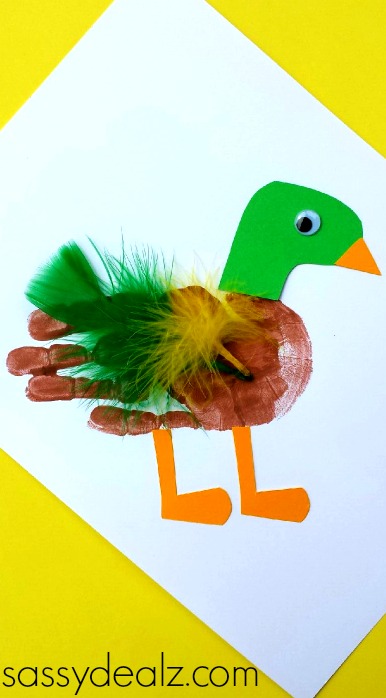 This Duck Handprint will be a fun project for the kids. Handprint crafts are a favorite with the younger set who are intrigued with all of the crafts they can make with the shape of their hand.
Kids might enjoy reading this book about ducks:
Ducky Duck by Kids Book Author Jenny Loveless and Denis Proulx
Supplies
White Paper
Brown paint
Paintbrush
Feathers, Green and Yellow
Glue
Scissors
Wiggle eye
Construction paper, Green and Orange
Instructions
Start by painting your child's hand with brown washable paint and pressing it onto a white sheet of paper.
Cut out a green duck head and beak. Glue them together and add a googly eye.
Glue on two feathers for the wings!
Add some duck legs to finish of this cute art project!
Contributor

SassyDealz.com
"Michelle has a teaching degree and for the love of art she started sharing kids crafts on her blog to inspire teachers, parents, and the little ones! SassyDealz.com is not only a craft website, but also a place where you can find online bargains and freebies!"