Patriotic Windsock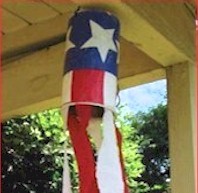 Great for any patriotic holiday. This Patriotic Windsock is presented in red, white and blue, and is perfect to honor all branches of the service. Have the kids show our service people still on active duty. as well as those veterans who have retired, that we appreciate what they do to keep us safe.
Trivia:  On August 31, 1949, Secretary of Defense Louis Johnson announced the creation of an Armed Forces Day to replace separate Army, Navy, Marine Corps and Air Force Days. The single day celebration stemmed from the unification of the Armed Forces under the Department of Defense.
Supplies
Empty oatmeal container
Red, white and blue construction paper
Strips of red and white crepe paper, fabric, or similar
Scissors
Modge podge and sponge brush
Instructions
Remove lid and cut bottom from oatmeal container.
Generously apply mod podge to container and cover completely with white paper
Cut stripes of desired width and glue on at even intervals.
Cut blue construction paper in half and attach to top portion of container.
Cut stars from remaining white paper, either freeform or using patterns on the printables page.
When dry, cut alternating red and white strips of crepe paper, butcher paper, fabric or similar to the bottom of the wind sock as pictured.
Affix fishing line, wire, string, etc to the windsock and hang outside.
Click on printables and then on the thumbnail for a larger picture of the windsock.
Contributor

Kideas
At Kideas, you'll find crafts, recipes, party ideas, and activities for children of all ages. Everything on the site is 100% free for use by parents, teachers, scout leaders, and child care providers.