Make an Anna Bandanna Doll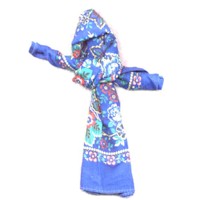 Keep your young listeners enthralled as you fashion an Anna Bandanna doll while you tell them stories about the old days and teach them that all treasured toys do not need to be "store bought". Little girls will love Anna Bandanna as their constant companion.
Trivia:  The first overland immigrants to Oregon, intending primarily to farm, came in 1841 when a small band of 70 pioneers left Independence, Missouri.
Supplies
Old Bandanna
Willing Hands
Instructions
Roll two opposite edges of the bandanna together to form a scroll.
Twist the scroll in the middle. Make one complete twist.
Fold the top half toward you, just above the twist.
Let the front (top) half of the scroll unroll a little.
Turn the bandanna over. Pull the arms out, away from the middle.
Tie the arms in a half knot around the waist.
Other Images
Click on an image to open it in a new window
Contributor

Karen Robinson
Karen Deal Robinson loves to make things, especially fun things that don't cost much to make. She's interested in hiking, writing, dancing, sundials, labyrinths, and playing musical instruments, among other things. She's a math teacher at a communitycollege. She lives in Colorado with her husband. They have a grown son and daughter.