Patriotic Lace Flag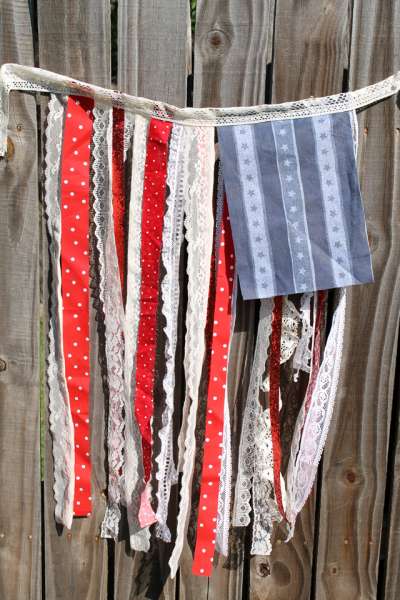 Show your support by displaying this Patriotic Lace Flag on Armed Forces Day. It also make a great beginning sewing project for kids.
Supplies
White lace
Red ribbon
Blue fabric
Sewing machine
Instructions
1.For the top strip of the banner, cut a 30″ piece of lace. You want this piece to be a fairly wide piece, mine is 2.5″ wide. Pin off a 15″ section in the center of the strip.
2. Cut out white/cream lace patterns that are approximately 25″ long. I have about 14 strips of varying widths. Place the top edge of the strips about 1/2″ over your top strip.
3. Cut 7 pieces of red ribbons or red fabric strips 25″ long. Place the top edge of the red ribbons/strips about 1/2″ over your top strip.
4. Cut a 7″x10″ rectangle from a piece of blue fabric, place it over the top of your strips.
5.Fold the top strip down over the lace strips/ribbons/fabric and pin them all together.
6. Sew along the top strip, stitching through all of the layers of lace and ribbons.
Contributor

CraftBits
Our website was created by a mother and daughter team, adding a unique combination of crafting qualities and expertise of creativity. We started our website after numerous years in the area of craft, teaching, retail craft and owning a gift store. We decided to launch it to provide resources for teachers, therapists, and craft enthusiasts in the year 1999. Since then, the website has grown tremendously in terms of content and resource information.