Paper Tree Frog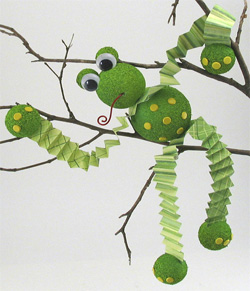 The kids will love making this Paper Tree Frog for their classroom or for their room at home. This craft will put a smile on kid's faces as he hangs around to keep an eye on what is happening. Since live tree frogs are a little tricky to keep as pets, this Paper Tree Frog is a much better option.
Trivia:  The green tree frog is native to the south-eastern parts of the United States. They are commonly seen in Florida, South Carolina, Arkansas, and southern Georgia in the local shrubbery of the neighborhoods. They can be heard calling at night in the spring and early summer along side lagoons and ponds.
Supplies
2 Styrofoam Balls, 1″ diameter
4 Styrofoam Balls, 1-1/2″ diameter
1 Styrofoam Ball, 2″ diameter
1 Styrofoam Ball, 2-1/2″ diameter
1 scrap piece
Holiday Green Color Tool® Spray Color (Design Master®)
Olive Bright Color Tool® Spray Color (Design Master®)
Green striped scrapbook paper, 12″ x 12″
Stroke of Luck (Reminisce) Green plaid scrapbook paper, 12″ x 12″
Lucky You (Reminisce)
Red Fun Wire™, 6″ length of 18 gauge (American Art Clay Co., Inc.)
Tacky Glue (Elmer's® Craft Bond™)
19 Yellow Brads, 1/4″ diameter (Hot Off The Press)
2 Pop-Up Dots (Glue Dots International)
2 Wiggle eyes, 20 mm
Round toothpicks
Straight pin, 1/8″ diameter, yellow head
Paper punch, 1/8″ diameter
Pencil
Ruler
Serrated knife
Scissors
Round pliers
Newspapers
Instructions
To prepare for making the Paper Tree Frog, protect the work area with newspapers in a well-ventilated area. Test spray painting on scrap piece of STYROFOAM™ until comfortable with process. To hold while spraying, insert one toothpick into each STYROFOAM™ ball. Insert toothpicks into scrap of STYROFOAM™. Spray balls Holiday Green. Then spray Olive Bright to achieve desired color. Let dry — Leave toothpicks in balls. (Note: Toothpicks will be used in connecting balls to help secure.)
Cut four 1″ x 10″ lengths from scrapbook paper for arms and legs. Accordion fold, without being precise, to create an irregular look.
Use hole punch to make a hole 1/4″ in, on one short end of each arm and leg piece.
For head, remove toothpick from 2″ ball, dot with tacky glue and reinsert.
For body, remove and discard toothpick in 2-1/2″ ball. Align holes in paper arms. Insert the 2″ ball toothpick, down through holes in arms and then into 2-1/2″ ball body.
Remove head with toothpick, dot with tacky glue and reinsert. Arrange arms on sides. Attach legs as you did the arms, using a pin instead of a toothpick.
For eyes, trim toothpicks on the 1″ balls to 1-1/4″. Insert into top of head, positioned according to finished project photo. Remove toothpicks (each end), dot with tacky glue and reinsert. Use Pop Up Dots to attach wiggle eyes to fronts of 1″ balls. Press wiggle eyes down into head, as needed to provide extra support.
For feet, remove and discard toothpicks from 1-1/2″ balls. To attach paper arms and legs, use a serrated knife to make 1″ long, 1/4″ deep slices in balls. Apply glue along cut slices and insert paper arms and legs.
For body and feet spots, press seven yellow brads into stomach area and three in front of each foot. (Optional: Remove, dot with glue and reinsert.)
For tongue, insert toothpick into lower center of face, pushing all the way through to the back. Remove toothpick and replacewith wire. Using pliers, coil up both ends about 1/2″.
Help this perky green tree frog "catch flies" with his tongue by moving it in and out from the back!
Contributor

FloraCraft
FloraCraft(r), locally owned and operated in Michigan, has beenserving the craft and floral industries for 65 continuous years, providing quality STYROFOAM(tm) Brand Foam in shapes and sheets.  We are dedicated to helping beginners and professionals achieve their best results, FloraCraft products are the foundation of every great project.