Paper Plate Sun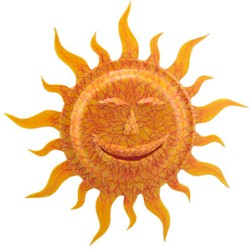 Summer is here but we've brought you this Paper Plate Sun to make just in case you need an extra dose of sunshine for those rainy days.
Supplies
2 paper plates
Masking tape
Glue
Some old cardboard or construction paper
Markers or pens for customizing
1 Paper-towel tube for the fancy version
Instructions
Make your flames!

This Paper Plate Sun is a lot of fun and very simple to make. I'll start out by showing you the simple version of this project. First draw some flame designs that you like. We used colored craft paper for our flames, but you can always use plain paper and color it later. Cut out your flames and trim them to the size you like.

 
2. Arrange your flames!
The next step is to arrange your flames in a circle pattern around the inside edge of a paper plate, taping them in place as you go. I really like using both small and big rays, but feel free to experiment!
 
3. Add your top plate!
Now you can glue or tape the second paper plate on top of the first. The sun is almost done!

 
4. Decorate your sun!
The final step is always the most fun for me... decoration! I painted this one with some kids paints and drew a little face on it. You can do anything you want here, so have fun!
This will make the simple version of this craft pictured below. If you want to make the more advanced version pictured above complete the following directions. If you would like pictures of the craft in progress go to LooLeDo.com
 
5. Try the fancy version!
I started my more elaborate sun the same way as the simple version; cutting out flames.

I looked at different ways to decorate my flames, and decided to cover each one with masking tape so that when I colored them later they would look consistent.
 
6. Arrange your flames!

After covering my flames I arranged them inside of my paper plate and taped them in place. You can make your flames as big or small as you want!

7. Make a handle!
Now for my own fancy version I wanted to have a handle (this made it easier to hold). I cut a hole in one of the paper plates and taped a paper towel tube inside my plates.

8. Finish your handle!
You can make your sun with or without a handle, it will look great either way!

9. Fasten your plates!
Now take your second paper plate and cover the first, fastening it securely with some masking tape or some glue.
Now it's time for you to decorate your Sun!
 
10. Cover your sun with tape!
Once my Sun was taped together, I covered it completely it with a layer of masking tape. You don't have to cover yours, you can just decorate it with markers or paint.
I like to use masking tape to make facial features because it is so moldable. I shaped a bunch of masking tape into the mouth and attached it to the front of my suns face. I also wadded up tape to make a nose and a pair of eyes and attached them as well.
You can also just draw a face on if you'd like. Maybe try a mustache, horns, eyebrows or anything you can think of. Have fun and remember to try new things!
 
11. Add features!
I really enjoy working with masking tape because it has a wonderful texture to it. You can make patterns with it when you layer it onto a project, adding designs and cool effects.
I ripped up small triangles of tape and layered them on both sides of my sun so that it was completely covered. I wanted to give my sun some flaming good looks!

12. Work on the back!
On the back I started on the edges and layered in towards the center so that the final layer was on top. This gave it a nice even pattern.

13. Get ready to customize!
Remember that you can make your sun however you want. You can draw flames on it, or maybe some other cool designs!

14. Ready to color!
When my sun was covered in tape it was time to start the final step... coloring!

15. Color your sun!
I decided to go with a nice orange color on my sun, but you could use red or orange or any other color you think looks good. All my little pieces of tape gave my sun this nice flaming hot look!
16. Finished!
VOILA! A very fancy sun!
Remember, with any project you can make a simple, easy version in minutes or spend lots of time making it look cool and crazy! Look around for different supplies to use, and remember to always have fun!
This craft is reprinted courtesy of LooLeDo.com.
Contributor

LooLeDo.com
LooLeDo.com | Fun Kids Crafts, Science Projects and More. Step-by-step instructions for hundreds of incredibly cool crafts and science projects that can be built from everyday household objects.