Paper Plate Spin Art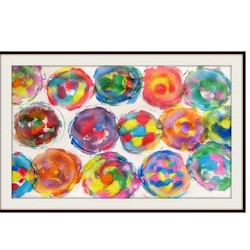 Everybody knows about making spin art with an old salad spinner, but here is a new technique for young crafters.
Supplies
Paper Plate
Paint
Paper
Instructions
With the paper plate with the bottom side up put small dabs of paint spaced all over the surface.
Turn the plate over and carefully rotate the plate a couple of times with your hand.
Gently lift the plate off the paper and admire your artwork.
Each creation will be unique. You can group a series of them together and frame for display on your wall.
This craft is reprinted courtesy of Putti Prapancha where you can find lots of creative play projects.
If you enjoy this craft, you might also enjoy Spin Art.
Contributor

Putti Prapancha
Roopa Shri Mother of a loving little preschool girl, Putti who is the inspiration and very reason to start her blog - Putti Prapancha. It is the place where she share all her fun activities and creative play.