Father's Day Sports Breadfast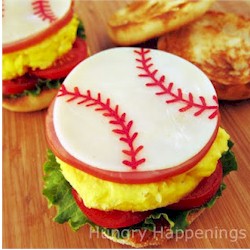 Surprise Dad with this great breakfast on Father's Day. Maybe even follow it up with a game of catch afterward.
Supplies
1 slice of white cheese (Provolone, Gouda, Monterey Jack)
1 large egg
1 teaspoon whipping cream or whole milk
pinch of salt and pepper
non-stick cooking spray
1 English Muffin
1 slice Canadian Bacon or ham
optional, tomato slices and lettuce
3" round cookie cutter
food coloring markers
skillet
Stove (to be used under the supervision of a responsible adult) or microwave
Spatula
Whisk
Instructions
To make baseball cheese slice: 
Cut a cheese slice using a round cookie cutter For the baseball, you need to draw on two curved lines using a red food coloring marker.  Then add the V shaped stitching to those lines.
To make the breakfast sandwich:
Whisk egg, cream, salt, and pepper together. You can cook your scrambled eggs over medium high in a non-stick skillet then press them into the round cookie cutter to create a nice rounded shape or if you prefer, you can spray a round glass ramekin with non-stick cooking spray and pour in the egg mixture, then heat in the microwave on high for 30-60 seconds until cooked through. Another option is to fry or poach the egg.
Toast your English Muffin. Top one half of the English Muffin with lettuce and tomato slices, if using, then with the hot cooked egg, slice of Canadian Bacon, and sports ball cheese.  Serve immediately.
This project is reprinted courtesy of Hungry Happenings where you will find recipes that are both delicious and fun. 
Contributor

Hungry Happenings
Beth Jackson Klosterboer is the author of Hungry Halloween featuring Movie Monster Munchies, Bewitched Buffet, and Dead Man\'s Diner. She has been a chocolatier and party planner for over 20 years and creates edible crafts which she features on her her blogs, http:www.HungryHappenings.com and http://www.HungryHalloween.com.