Paper Plate Scarecrow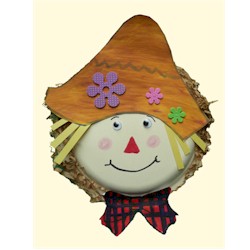 Fall is a time of Harvest and wonderful adventures in the garden full of ripe vegetables. Kids can make a Paper Plate Scarecrow to keep the birds away.
Supplies
Paper Plate
Scissors
Glue
Markers
Wiggle Eyes
Construction Paper, Yelllow and white
Instructions
Turn the paper plate upside down.
Shred yellow construction paper for hair and glue to top of plate using photo as a reference.
Cut hat out of white construction paper and color. Add flowers or decorations that you like. Glue over hair.
Glue on wiggle eyes. Draw scarecrow features on plate.
Cut bow tie out of construction paper color and draw stripes. Glue to bottom of plate.
Now you have made your own personal scarecrow.
Contributor

KinderPlans
If you would like to save countless hours of developing effective kindergarten and preschool lesson plans, worksheets, and activities helping preschool and kindergarten children excel, KinderPlans is the place for you.