Paper Plate Goose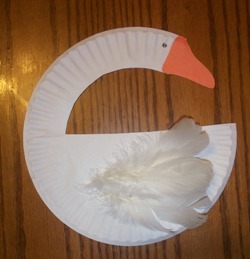 This Paper Plate Goose is so much fun to make and display for all the family to ooh and aah over.  Paper Plates are inexpensive and lend themselves to so many good crafts for the kids.
Trivia: Geese fly in a "V" formation. If one goose is injured, other geese will stay with it until it dies or can rejoin the flock.
Supplies
White Paper Plate
White Feathers
Orange Paint
Paintbrush
Black Sharpie
Tacky Glue
Scissors
Instructions
Using the photo as a reference, cut out a half circle from the plate as shown.
Cut the neck area shorter too.
Cut a triangle for the beak.
Paint the beak orange.
Using the black sharpie pen make a small dot for the eye.
Using the picture as a reference glue the feathers to the body of the goose.
You now have a lovely goose to display for everyone to see.
Contributor

MakingLeaningFun.com
Making Learning Fun: An early childhood education website filled with free printables designed to do just that, make learning fun!  Whether you are a parent, teacher, or childcare care provider, you'll love our site filled with educational printables and activities for the children you love.  You'll find that pre-kindergarten through second grade students will enjoy our activities most, but you'll find yourself having fun too!